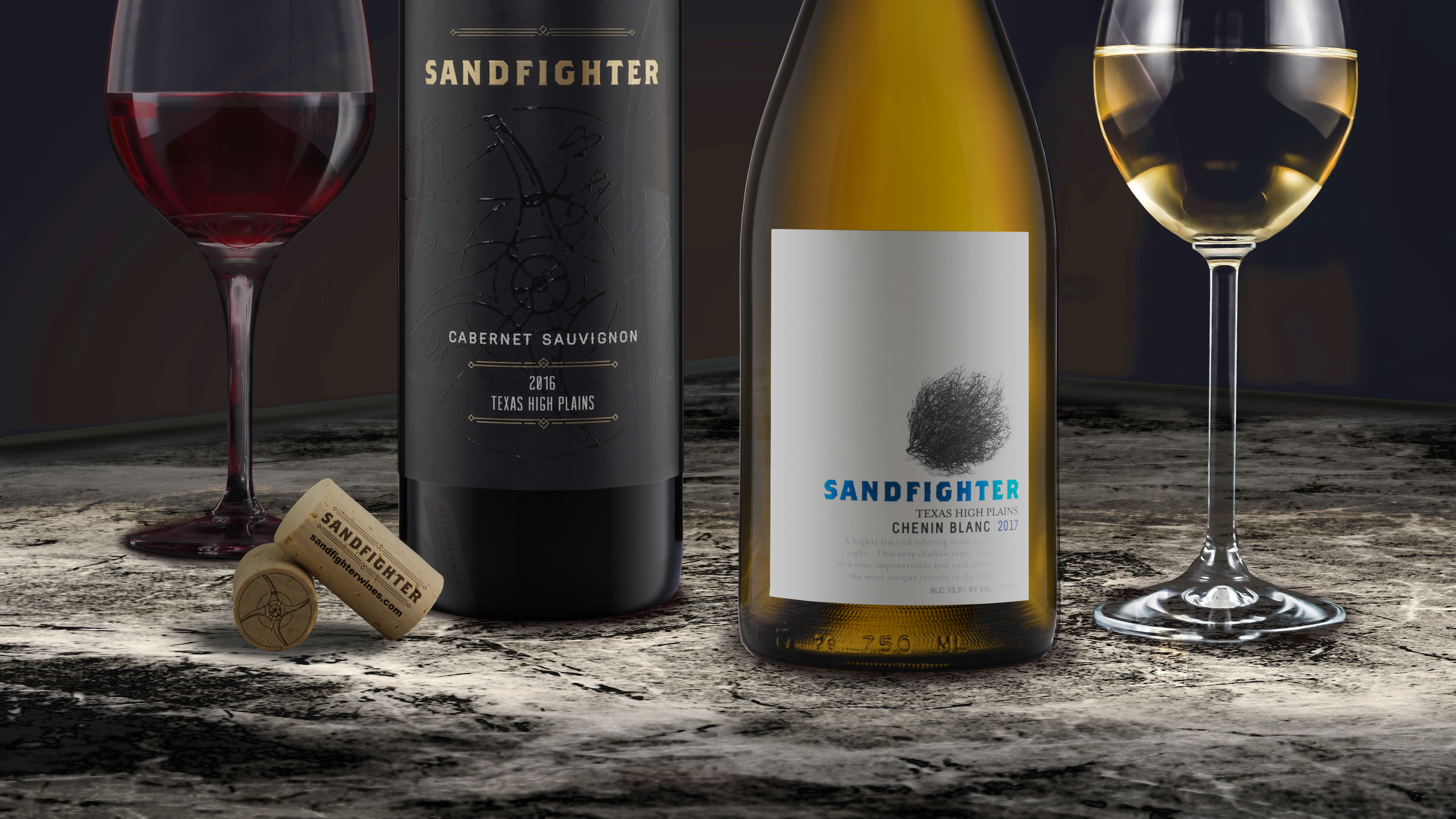 These are the projects I completed for Sandfighter Wines. I was commissioned to complete everything from initial concept creation to finalizing print and direction for the brand and products moving forward. Specific tasks performed for this winery included Packaging, Label, Concept, and Logo Consultation and Design; Branding Direction; Print Consultation and Direction; Production Photography; and Business and Marketing Materials Designs.
Sandfighter grapes are grown in Levelland, TX showcasing their passion for complex wines. Believing that great wine starts with the soils in which the varietals are grown in, through with a minimalist winemaking approach. Above all, Sandfighter Wines offers a genuinely unique, and enjoyable experience and shows the results that can be achieved from hyper intensive focus and a hands-on approach from cuttings to bottle.
#1 The client wanted to design their brand as a small batch artisan winery and was looking for a high-end label and packaging that was both rich and celebrates West Texas. The Cabernet Sauvignon was their first entry into the Texas wine industry and wanted it to make a bold statement.
#2 The client was thrilled with how the Cabernet Sauvignon label and packaging turned out and wanted me to develop a Chenin Blanc label. He wanted something unique from there other wine label but wanted to keep the packaging and label high end. The goal, a high end feel its lone tumbleweed motif.
#3 Design and develop marketing materials that reflect the brand. Business cards, restrain menu ads, clothing, and hats were designed and made.
Client meeting for values and brand exploration, to get a sense of the personality and mission of this particular winery > Researching the local area, culture, and West Texas archetypes and symbolism > Concepts Created > Eliciting and encouraging client feedback > Design Label Concepts of a few different styles to present to client > Final Label and Packaging Design > Completion of compliance submission for client > Directed and oversaw Label and Packaging printing and production > Wine Production, Bottling, and Labeling (working with these departments as a consultant and providing quality checks in-person to ensure successful final product).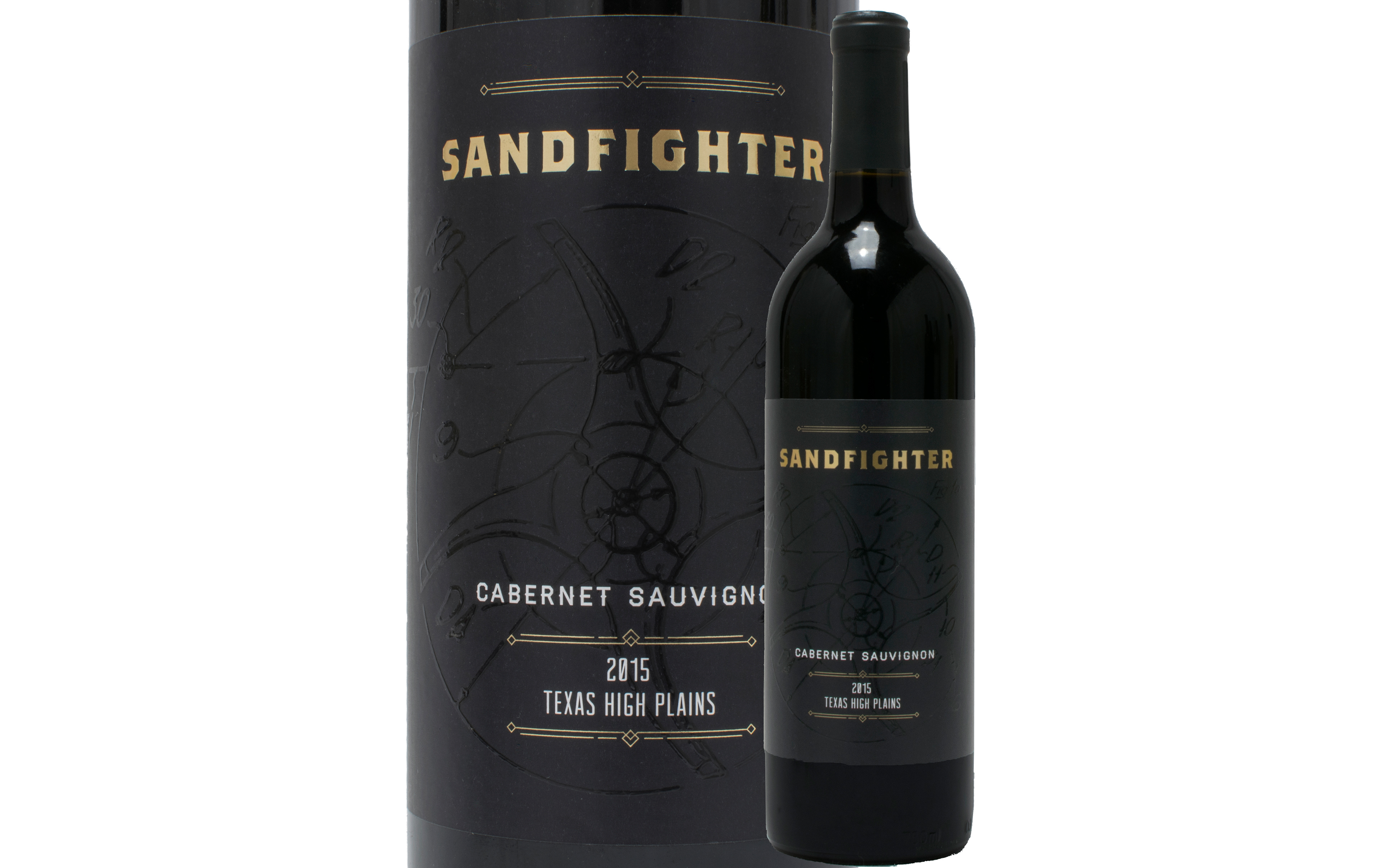 The Design - Cabernet Sauvignon
A luxurious black wine label with gold stamping, and gold metallic ink was used to create the wine label. This label plays with contrasting different black inks as well as using tactile varnish on the tiller blade diagram to separate them. Initially, the wine label stock was a deluxe felt, but the metallic gold ink absorbed too much into the fibers. So a semi-coated label stock was selected which yielded a better result and contrast with the black inks.
To further push a high end feel a custom branded 44mm natural cork. Using the Tiller blade for the top and the wineries name & website on the sides to bring the customers another chance to interact and remember the brand. To complete the packaging a matte black capsule on top a full punt, antique green, Bordeaux bottle. These packaging selections give the overall dark silhouette the client was looking for and keeping it edgy and bold.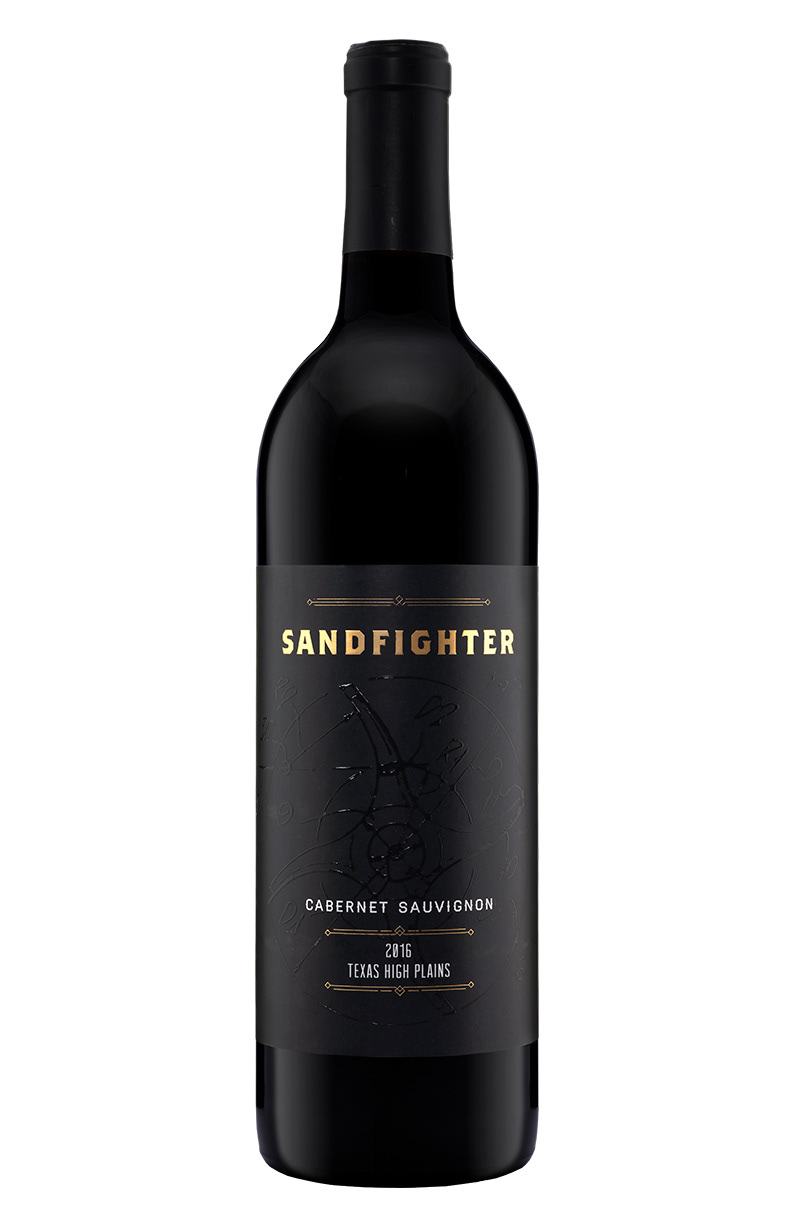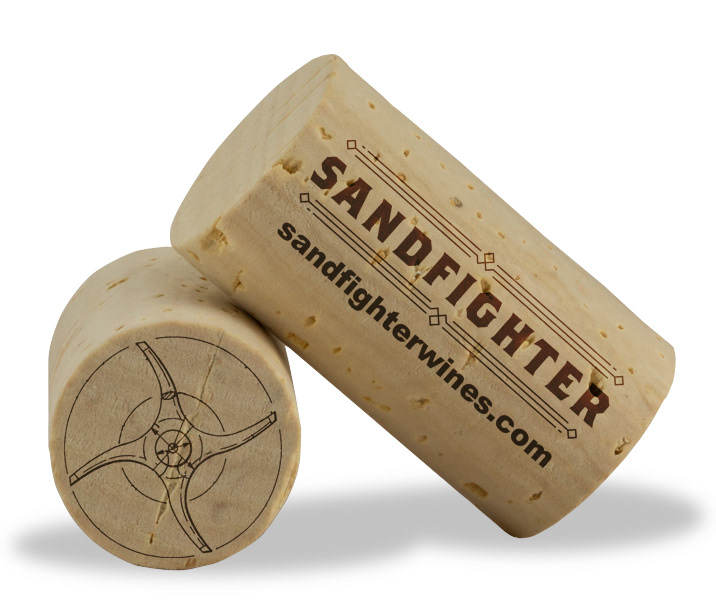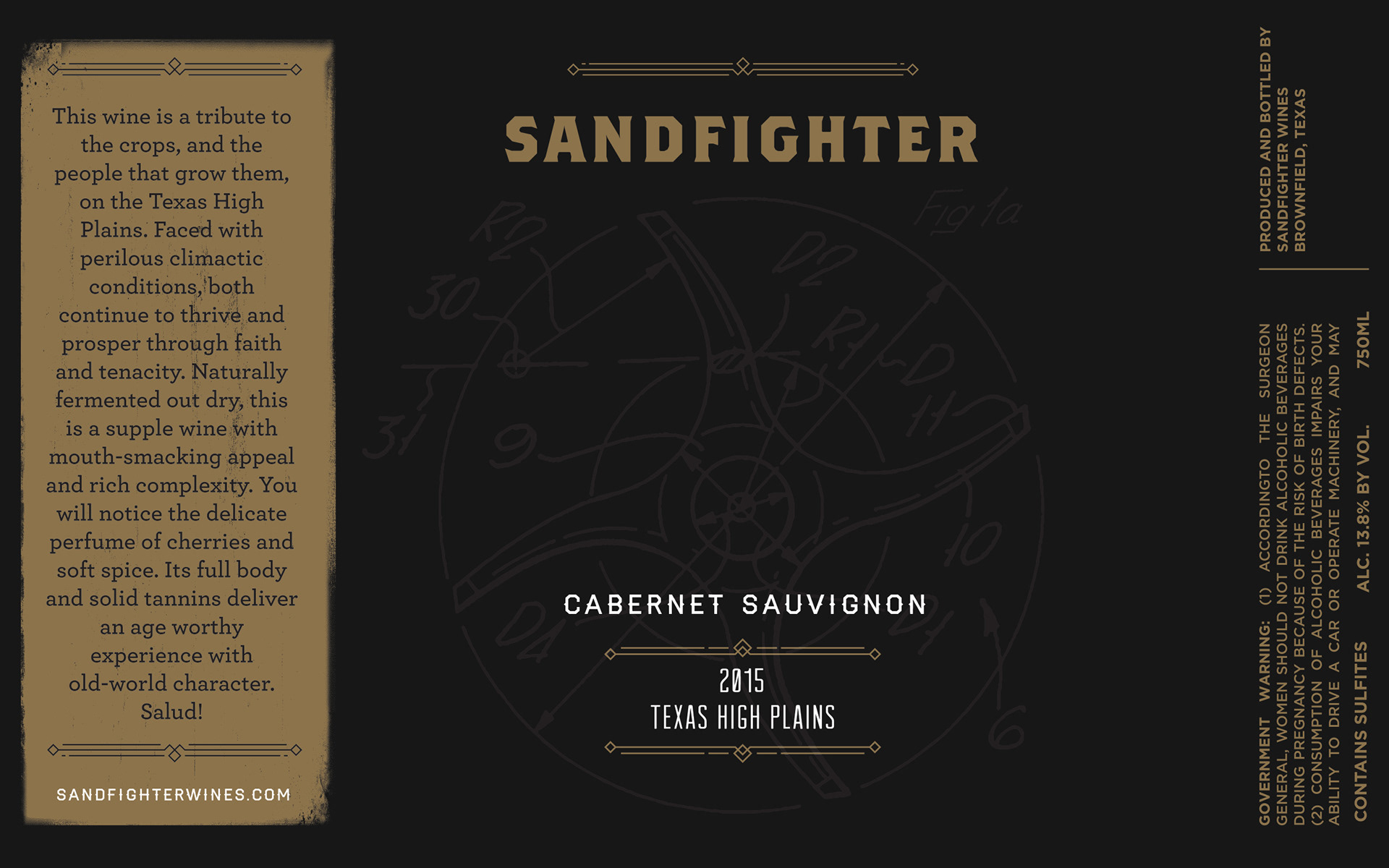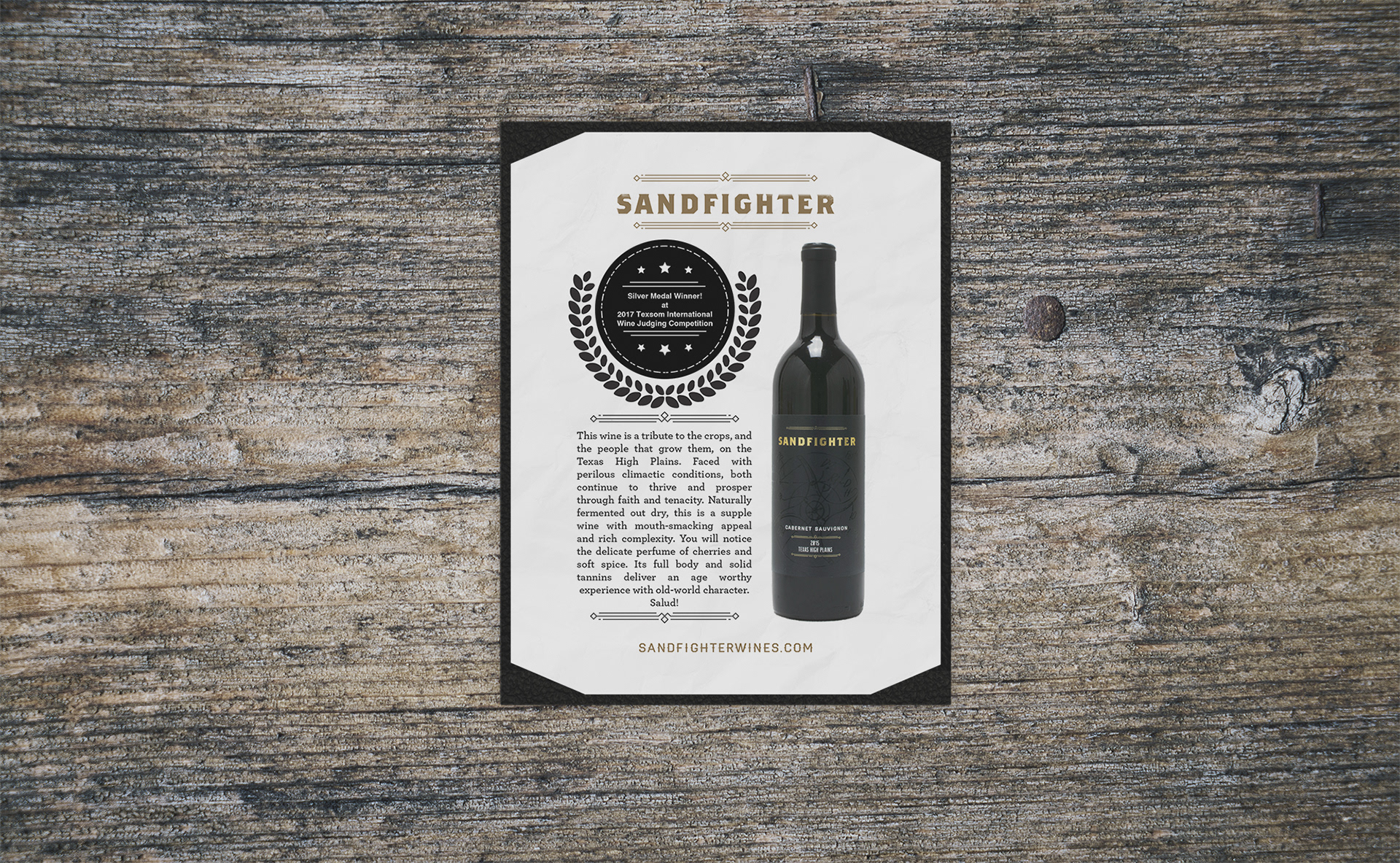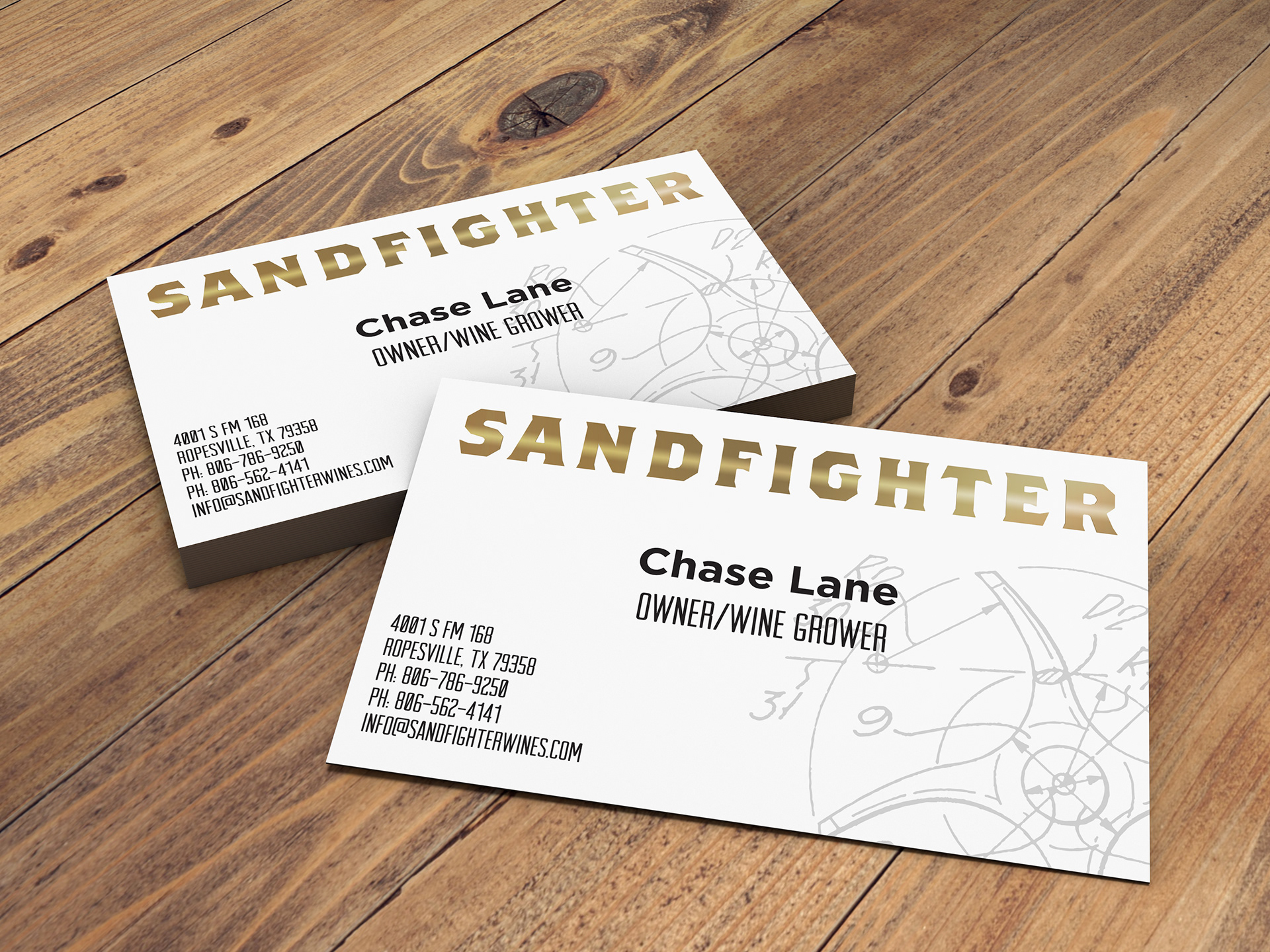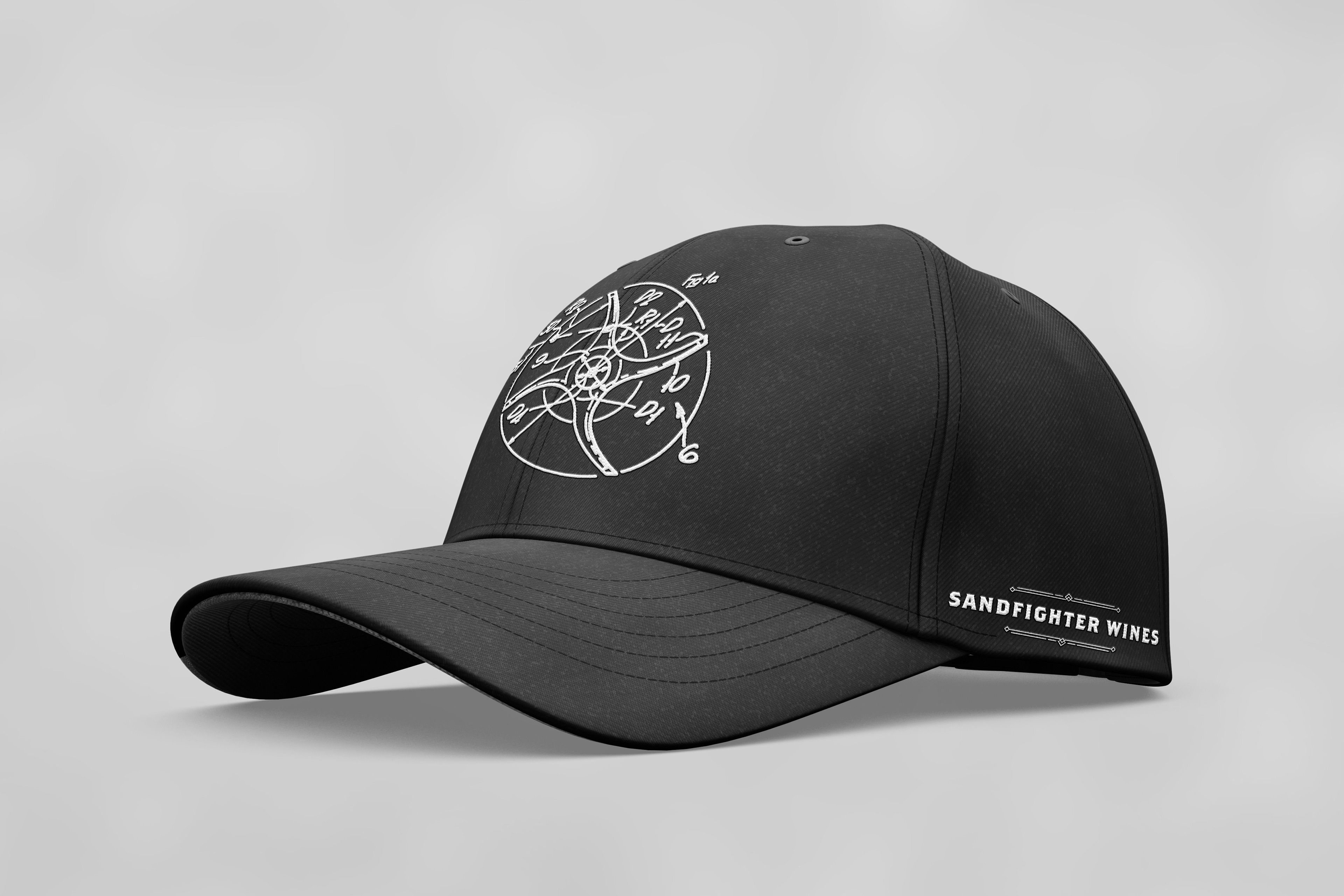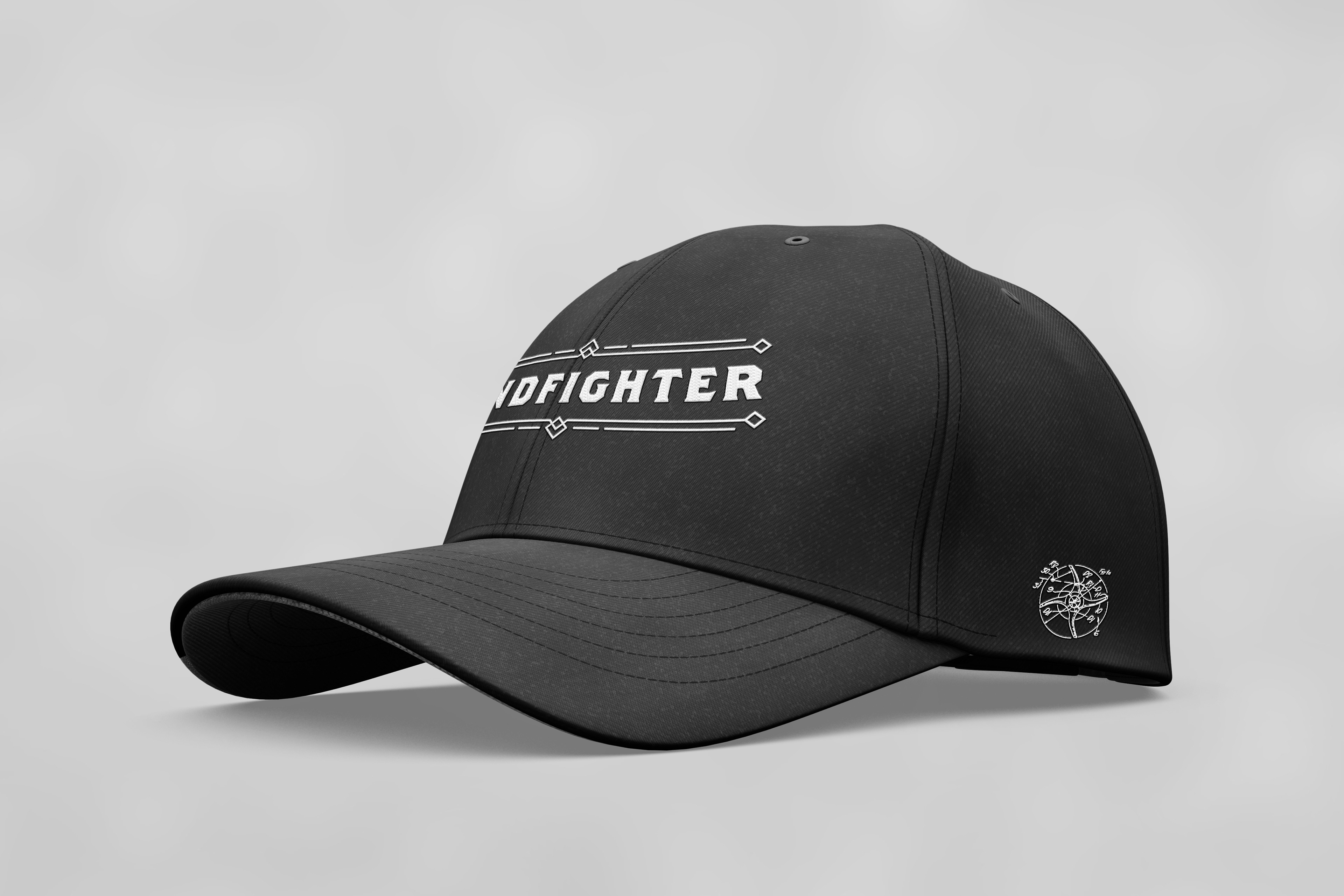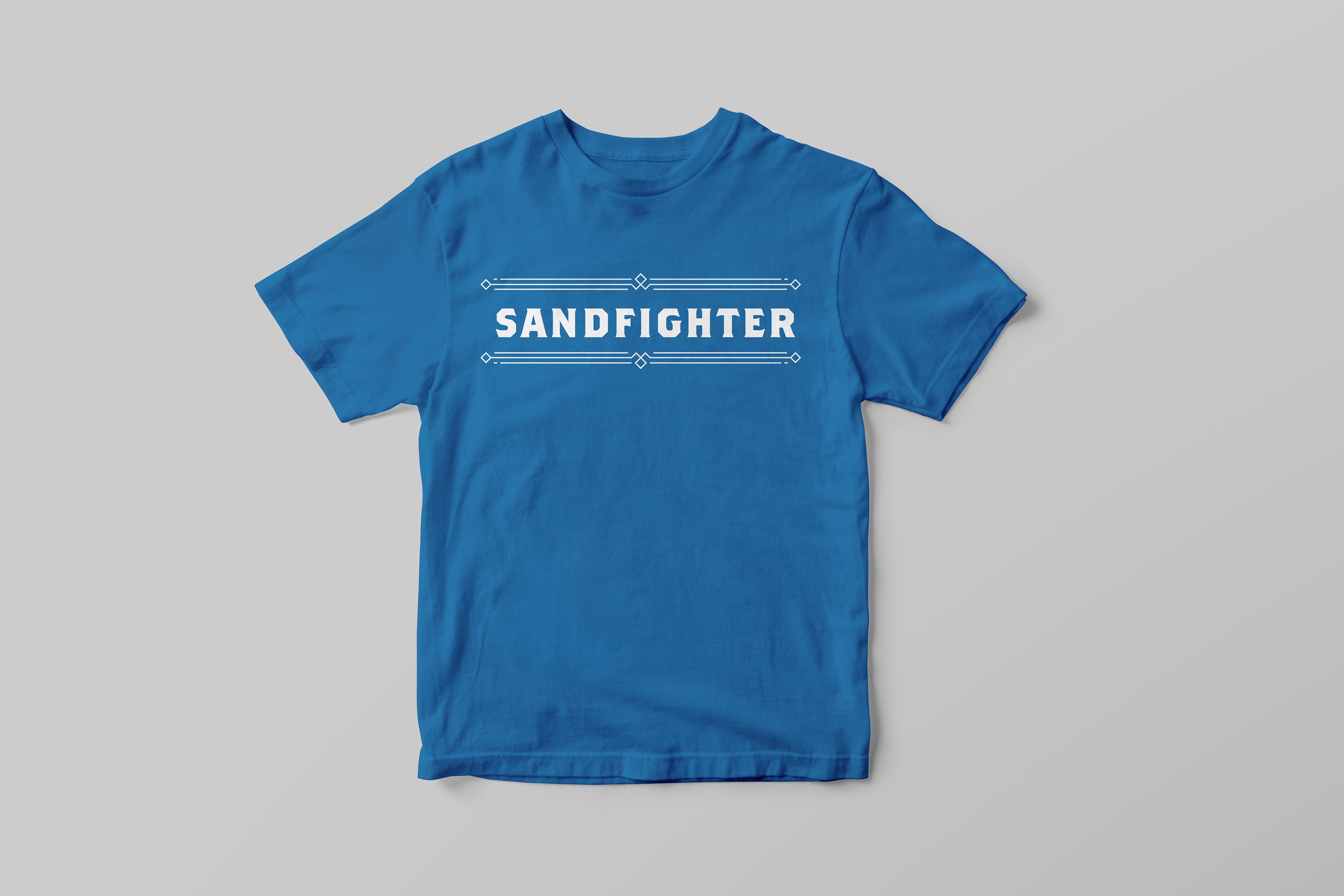 The Design - Chenin Blanc
The design tumbleweed was given a secluded feel while paying tribute to those balls of twigs that are often flying around West Texas roads. By placing the design on linen paper and accompanied by bold foil stamping on. Sandfighter achieves its desired feel and texture of an almost sandy feel. The winery's name on the back label is foil stamp as well giving it a premium look. The client wanted to press upon the limited production, and so a production number was added to the bottom. To give it a more craft, feel the client will write in the bottle number that the wine was bottled.
A massive punt, dead leaf color Burgundy bottle was selected to protect the wine and give it ultra-premium feel. I decided a matte white Stelvin capsule to complement the wine label and bring contrast to the packaging. The wine label combined tradition, craft, and innovation in one beautify package.